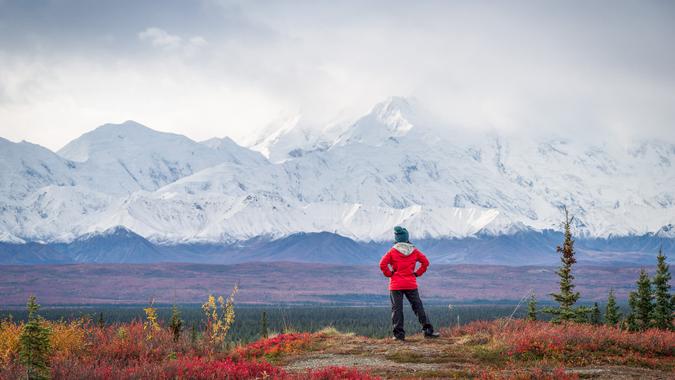 pkujiahe / Getty Images/iStockphoto
Being cooped up inside during the winter can get old fast. Though taking a luxurious island vacation might not be in the budget, there's plenty of beauty to take in while visiting America's national parks, and prices are much lower than traveling halfway across the world. Perhaps you've wanted to check a few of these naturally beautiful places off your list, or you want to revisit one of your favorite parks with your family. Here's how much these picturesque destinations will cost to visit. 
More Savings: 6 Holidays Purchases That You Should Only Make at Costco
See: 4 Costco Items That Have Remained Cheap for Years
Bryce Canyon, Utah
Price: $35 per car (valid for 7 days)
Bryce Canyon offers the white Christmas in the mountains landscape that's straight out of the movies. You can hike the trails in snowshoes and take in all the park has to offer. If you visit in February, you can attend the Bryce Canyon Winter Festival where you can participate in ski tours, archery clinics, kayaking demos and more! The festival is free, but each activity has a set price.
More Savings: 13 Insider Secrets From Travel Agents That Will Save You Money
Marsh-Billings-Rockefeller National Historical Park, Vermont
Price: Free to enter the park / Tour & activity costs vary
Spend a few days of the winter cross country skiing or snowshoeing in a winter wonderland where the average winter snowfall is 80 inches. Day passes to the Woodstock Nordic Center cost $25 per adult and $20 for kids 5-17 or seniors 65-74. Adults over 75 can get day passes for $14 a day. There are also guided tours available as well as ski lessons and sledding for the whole family. 
Freebies: 35 Things Your Hotel Will Give You for Free
Grand Canyon, Arizona
Price: $35 per car
The Grand Canyon is truly beautiful all year round, but during the winter, you'll see less congestion on the trails, making for a more serene hike. Wildlife is also out and about, so you'll be able to spot some mule deer in the forest while bald eagles soar overhead. Bright Angel Campground is also open for campers looking to have a winter adventure. Though it will cost you to get into the park most days, if you go on Martin Luther King Jr. Day, admission is free.
Tips: How To Plan a Last-Minute Holiday Vacation With Kids — Without Breaking the Bank
Padre Island, Texas
Price: $10 per car (valid for 1 day) / $25 per car (valid for 7 days)
Maybe an island getaway is possible with a visit to Padre Island in Texas. Temperatures range from 50 to 70 degrees in the winter, making it warmer than most places nationwide. While you're there, you can take bike rides on the beach, fish, birdwatch and camp along the stunning Laguna Madre. Visiting Padre Island is a great way to have a day at the beach, complete with kayaking and canoeing, without having to travel out of the country. 
Learn: Things You Can Get For Free in Every State
Denali, Alaska
Price: $15 per person over 15 (valid for 7 days)
Catch the magnificent Aurora Borealis on an excursion to Denali. Because of how dark it gets in Alaska in the winter, you're able to see the Aurora Borealis very clearly if it's happening. Denali is known for being free from light pollution, making the sky especially ideal for stargazing in general. You can also visit the Denali National Park Kennels where sled dogs are trained and can be seen pulling sleds for miles. Speaking of animals, there's lots of wildlife to spot in Denali, including moose, bears and caribou. 
More Tips: How To Save Money on Rental Cars for Your Upcoming Trip
Carlsbad Caverns, New Mexico
Price: $15 per person over 16
Explore more than 119 caves in the majestic Carlsbad Caverns. In addition to exploring the caverns, you can take a hike on the scenic Natural Entrance Trail. Rangers are ready and available to take you on a guided tour of the caves so you can learn the history and science behind their formation as well as notice amazing details that might not be visible to the untrained eye. 
Find Out: Flying vs. Driving: Which Is More Cost Effective for Travel This Year?
President's Park, Washington D.C.
Price: Free
You might have not known that the White House is in a national park! When you visit in the winter, you can see the National Christmas Tree glow with thousands of lights. History buffs will enjoy exploring 82 acres of historical monuments, statues and structures in the park. The White House Visitor Center features lots of historical artifacts and historical footage that offer a deeper glimpse into America's history.
More From GOBankingRates