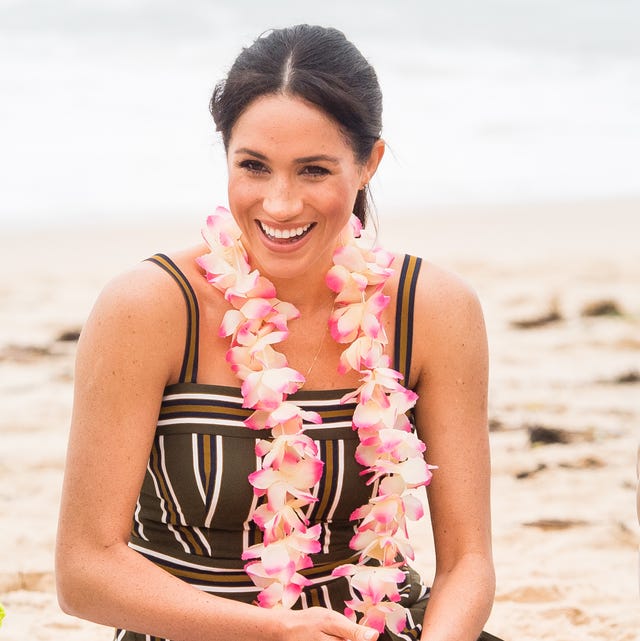 Samir HusseinGetty Images
In her pre-royal life, Meghan Marklewas an avid lifestyle blogger on The Tig. She founded the site in 2014, covering travel (among other topics), and wrote about her vacations to destinations like Istanbul, Turkey and Negril, Jamaica.
As her relationship with Prince Harry got more serious, Meghan announced in April 2017 she would be shutting down the site. In her goodbye note, she wrote,"What began as a passion project (my little engine that could) evolved into an amazing community of inspiration, support, fun and frivolity. You've made my days brighter and filled this experience with so much joy. Keep finding those Tig moments of discovery, keep laughing and taking risks, and keep being 'the change you wish to see in the world.'"
Yet, thanks to the powers of the internet, much of her writing is still available to read. Without further ado, here are Meghan Markle's 12 favorite trips, complete with recommendations on where to stay, according to the Tig:
Advertisement – Continue Reading Below
"Without question, St. Barths remains an ultra luxury destination, but with a little scouring, you can find a respite from the fancy fray or dive right in – whatever your pleasure, this island does seem to have it all," Meghan wrote on The Tig in 2014.
Where Meghan stayed in St. Barth's: The hotel she stayed at closed in 2018, but a restaurant she loved is still open: Le Grain de Sel. She describes it as "an authentic Caribbean restaurant serving up creole classics. Do not miss this food gem, where the bites are as transportive as the vacation itself." She also recommends going to Grand Saline Beach, where she was a "mermaid" her friends could not drag out of the sea.
Meghan wrote on The Tig in February 2016 that she first discovered New York while filming the pilot for Suits, and a year after, she began to find her place in the city.
"My downtown: a little grubby, a little rough around the edges, a lot stylish, and as cool as I aspired to be – we're talking the Lower East Side," Meghan wrote. "I love a neighborhood that you can get lost in, always finding new nooks and crannies, interest and intrigue. And while the West Village is high on my list, and nothing is more convenient for work than staying uptown, this neck of the woods deserves a post all its own."
Where Meghan stayed: The Bowery Hotel, which she writes, "An old standy, known for its cozy charm, who's who nightlife scene (let's not discuss the nights I've had on the back patio with everyone from my Suits cast mates, to Jess Stam, Dianna Agron, and the countless celebs you end up clinking glasses with."
In her royal life, she has gravitated to New York's Upper East Side: Meghan had a baby shower at The Mark hotel and when she traveled to New York with Prince Harry in September 2021, they stayed at the Carlyle.
Meghan spent just two days in Istanbul. As she wrote in April 2015 "There have been some lofty travel goals set in my wanderlust-filled life, but 48 hours in Istanbul was perhaps the most ambitious. It's Istanbul, after all, with its grand bazaar, over 3,000 mosques to explore, rugs to strategically schlep back home, baklava to devour, culture-filled neighborhoods, the requisite hammam you simply must try, and oh yeah – that big ol Bosphorus. Case in point: there's a lot to squeeze in."
The quick trip was worth it.
"Equal parts invigorating and dizzying, 48 hours in Istanbul is, indeed, an undertaking. Rest assured, your head will be spinning with (Turkish) delight once back on the plane, but undoubtedly, it's worth every singular moment," Meghan proclaimed.
Where Meghan stayed in Istanbul: Soho House Istanbul, a members' club and hotel. As Meghan writes, "With 87 rooms, two rooftop pools overlooking the Bosphorus, and rooms that boast Turkish tiled floors and rainforest showers, it's the perfect (and most stunning) place to rest your head."
"There is something wholly cathartic about being able to turn it all off – to sunbathe with no one watching, swim in the briny Mediterranean Sea, eat copious amounts of Greek salads and fried red mullets, and toast to the day," Meghan writes of Hydra. "While most would qualify Hydra as a spot for a day trip, there are others like, Leonard Cohen, whom have made it home. The pace of life, local-schmocal vibe, and reality that much like the 80′s sitcom, Cheers, everyone knows your name, all make it the perfect contrast to our endlessly busy lives."
She loved how there wasn't much to do on Hydra. "You can stroll around the town center or dip into small tavernas for tzatziki and ouzo. Take a swim, then a nap, hike back to your hotel or apartment…rinse and repeat."
Where Meghan stayed in Hydra: She had no specific recommendations in her post—only to go to Hydra. "With Hydra being such a quick hop, skip and jump from Athens, it's a perfect weekend getaway – especially when you've got something to quietly, beautifully and peacefully celebrate."
"Sparkling blue waters, a frenzy of foliage, and the unfamiliar sound of days past (before iPhones and iPads and iEverythings) — you may remember it. It's called 'quiet.' This is what you'll find in the neck of the woods I ventured to last weekend," Meghan wrote in July 2014.
"As I've been told time and time again, even the word 'bliss' doesn't do it justice. You can't seem to mention Algonquin to Canadians without hearing a sigh of complete happiness, laced with memories of diving into the crystal water and lazing around late night campfires telling tales of Tom Thompson."
Meghan concluded: "This is not Muskoka with its fancy cottages and Hamptons-esque charm, nor is it the Georgian Bay, with its jet skis, tubing, and requisite social scene. Algonquin is straight out of the camp you see in The Parent Trap (the original, not the Lohan version). And while the mosquitos devoured me, and the rain trickled down on my last day of exploration, it didn't dissolve the fairy dust from this magical experience of pure Canadian bliss…"
Where Meghan stayed: With friends.
"Oh, how I love the city of lights. Yes, it has been romanticized in our minds from cinematic shots of the Eiffel Tower to long walks on the River Seine — from Before Sunrise to Amélie to Jean-Luc Godard's Breathless. The food, the accent, the je ne sais quoi of the women with their inherent chicness – I sigh un petit peu just typing this," Meghan wrote in August 2014.
Where Meghan stayed: Hotel Grandes Ecoles, which bills itself as a "country home in the center of Paris." Meghan writes, "It is really, super charming and also budget friendly…I remember them doing a lovely free breakfast in the little garden. The hotel rooms are cute and clean, but basic. The 7eme is also the University District so there are lots of fun bars and restaurants!" She also recommends L'Hotel in St Germain, which felt like a "home away from home" for her.
"When asked to go to Malta to not only discover the beautiful island, but also the land from which my great grandmother hailed, I said yes without hesitation," Meghan wrote on the Tig in March 2015. "It's Malta! A beautiful jewel of an island dotted in the Mediterranean between Sicily, Tunisia, and Libya. A dream for one who relishes culture and history set against a backdrop of the ever-so beautiful sea. Beyond being rich in history, the food & wine scene of Malta is one to write home about. While I wasn't there in the summer, I'm told the beaches are absolutely spectacular as well — which means I will have to go back…you know, for very important research purposes."
Meghan recommends exploring Valletta and Gozo as well if you travel to Malta.
Where Meghan stayed: Casa Ellul, which she called an "absolutely perfect boutique hotel" with eight rooms. "Think Calvin Klein meets Game of Thrones – chic interiors and styling within a castle-like exterior," she explained.
Meghan began her May 2014 post about Negril wondering if she should even share it with the world, writing, "Do you ever have that vacation that is so good that you're conflicted between wanting to share it with the world versus tucking the memories snugly under your pillow so that no one ever finds out about this specific sliver of paradise? So that it just remains yours, special and private, and just for you? I'm opting to go with the former on this (begrudgingly, I might add)."
She continued, "After only a few days in Negril, I felt instantly renewed. Morning yoga in front of the cool Caribbean sea, afternoon cliff jumping into the water, and dinners where my best accessory was always the jerk sauce covering my face after a perfect meal." Meghan recommends the jerk chicken at Three Dives Restaurant.
Where Meghan stayed in Negril: The Rockhouse Hotel, which she describes as "the kind of spot that leaves you daydreaming about it long after you've returned to alarm clocks, rush hour traffic, and people asking how you're doing but never listening for the answer. There is a special kind of calm that fills me when I'm there, much of it having to do with the off the beaten track locale of the property, and the warmth of the people (everything really is 'irie')."
In 2013, Meghan was in Budapest to film a crime movie Anti-Social. "With my castmate and friend, Gregg Sulkin, in tow, we ventured throughout the city to find the hidden gems & classic standbys of this Hungarian treasure," she reminisced. "And while year round, you're bound to find the beauty in Buda and Pest (yes, once two different cities separated by the Danube river), there is something magical about winter there. That extra fairy dust, that glittering snow that flecks every holiday market, the smell of warm soups and mulled wine all amidst a snow globe-esque backdrop."
Some of her favorite spots included classic Hungarian baths The Veli Bej, the Rudas Baths, Király Baths.
Where Meghan stayed: She stayed with the cast of Anti-Social in a hotel she didn't pick, but if she were to return, she would stay at Brody House, a boutique 10-room hotel.
Meghan wrote in her September 2014 blog on Tulum, "Yo conozco Mexico. I know Mexico." She explained, "annual trips to Mexico were not uncommon" for her family when she was growing up; "My mom and I would venture to Day of the Dead celebrations in Oaxaca, taking in the cultural revelry and chewing more chiclets than my mouth could fit. I would dig for buried treasure in the beaches of Puerto Vallarta, catch fish in Yelapa, and dine in D.F. And then there is Zihuatanejo, where I frolicked with my bare bum well before its famed description from Andy to Red in "The Shawshank Redemption."
Yet, Tulum was "shrouded in cool kid mystery." So when she traveled to Tulum, finally, it was "a very chic and very international bohemian playground" and "proved to provide the charm and culture that I relish about this country."
Where Meghan stayed in Tulum: The hotel she stayed at has since closed, but she writes highly of Italian restaurant Posada Margherita (where she recommends the cucumber and gin cocktail), which is connected to a hotel.
Meghan's trip to Croatia featured island hopping through the Dalmatian Coast, a location she described as a "smorgasbord of buoyant beauty dotted in the Adriatic sea."
Her recommendation for an itinerary: "Starting in the medieval town of Dubrovnik, with its breathtaking cliffside architecture and rich history, and continuing through the islands of Korcula, Vis, and finally Hvar gives you the perfect range of what the Dalmatian Coast has to offer – spectacular wine country, freshly caught seafood, glorious green space and craggy cliffs, a little nightlife, and of course, the lapping sea right at your feet."
Where Meghan stayed in Croatia: Villa Dubrovnik, a boutique hotel in Dubrovnik; Lesic-Demitri Palace, a luxury hotel in Korcula; Hotel San Giorgio in Vis; and Adriana Hotel, a spa hotel in Hvar.
Before traveling to New Zealand with Prince Harry on an official royal tour, Meghan Markle spent two weeks in the nation in a campervan.
"When my castmate and friend, Gabriel Macht, suggested that I camper van through New Zealand, I paused ever so slightly (thinking 'Could I campervan? Should I campervan? Am I a campervanning girl?') before saying yes," she wrote. "Which quickly evolved into a resounding yes."
Meghan continued: "This would be an ode to the road trips I took with my dad, the years of being a girl scout under the helm of my mom as troop leader, and my gravitational pull towards what is said to be one of the most beautiful countries in the world. Turns out it really is. With a landscape that ranges from stunning lakes, welcoming wine country, glaciers, forest, farmland and beaches, New Zealand is undoubtedly spectacular."
She traveled to Queenstown, Lake Wanaka, Franz Josef Glacier, Marlborough, Kaikoura and Akroa, and Waiheke.
Where Meghan stayed in New Zealand: In a campervan!
Last but certainly not least is one vacation spot from her life with Prince Harry: Botswana. For their third date, Meghan and Harry traveled to the Southern African nation.
"We camped out with each other under the stars," Harry said in their joint engagement interview. "We were really by ourselves, which was crucial to me to make sure that we had a chance to get to know each other."
They returned to Botswana a year later for Meghan's 36th birthday. "When we go to Botswana, we grab a backpack and pitch a tent!" Meghan said in March 2020. "It's not much, but that's how we like it!"
They love the country so much that Meghan's engagement ring featured a diamond sourced from Botswana, and two smaller stones from Princess Diana's collection. "It's incredibly special to be able to have this [ring], which sort of links where you come from and Botswana, which is important to us," she said during their engagement interview. "It's perfect."
Where Meghan stayed in Botswana: Meghan and Harry reportedly stayed at Meno a Kwena, near the Makgadikgadi Pans National Park.
This content is created and maintained by a third party, and imported onto this page to help users provide their email addresses. You may be able to find more information about this and similar content at piano.io
Advertisement – Continue Reading Below